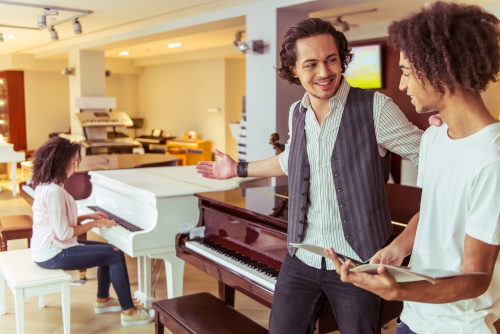 Many factors go into buying a piano. Make sure to reflect on your personal reasons for buying the instrument. If you need a few more reasons to make the dive, keep reading to learn more about the benefits of buying a piano.
Quality of Sound Creates a Motivation to Play
It is important to make sure you have a solid plan to learn and regularly play the piano before buying it. Many people have the desire to know how to play the piano or to have their kids play it, but finding people dedicated to putting in the work is a different story. Becoming proficient at the piano takes time, dedication, and, yes, money.
A real piano has elements that help new learners get a feel for the music in a way that keyboards or cheap pianos can't match. Having a well-crafted, quality piano will make the notes a pleasure to produce. Hearing such sounds will motivate you to continue playing and developing your art.
Learning with a Stable Instrument
A new learner requires stability from which to start their practice. The more consistent their practice schedule, the more likely they will be to practice. Similarly, the higher the quality of the music they produce, the more likely they will be to play. Having a top-quality instrument that a professional has tuned to perfection encourages hesitant learners to get back into it. Mid-range pianos should hold enough quality to get through five years or so of beginning playing.
Warranties: Manufacturer & Retailer
Many pianos will come with a manufacturer's warranty that will last anywhere from two years to providing a "lifetime" guarantee. Sometimes, a store will offer additional warranties that cover tune-up or moving damage. In either case, make sure to read the fine print to ensure you can take advantage of the entire opportunity.
Turn to the Professionals
Don't go into buying a piano blind. Instead, get the best advice from people who know what they are talking about based on years of experience.
Start with your teacher. Your piano teacher will have all sorts of experience playing all sorts of different pianos. They will have insights into the type and further benefits of getting a new piano. They may also know where the best deals are.
Aside from your teacher, check-in with experienced piano sellers to find the best piano for you. At each location of Evola music, you will find piano aficionados who value the craft, creation, and playing of pianos. They can help recommend the right instrument for you.
Stop by one of our Evola Music locations today.