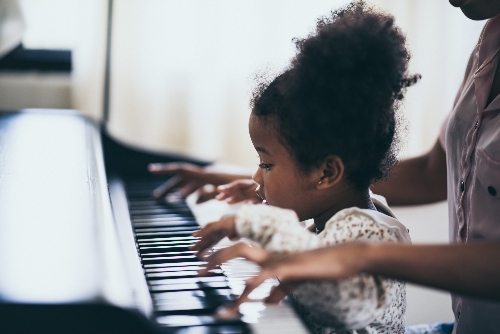 Adding creative elements to you or your child's life makes a difference.
Creative expression helps people grow, develop, and live more fully rounded, balanced lives. Music education can help children develop skills that will aid them throughout their academic experiences and personal lives. From fine motor skills and comprehension abilities to math understanding and self-confidence, learning to play an instrument and produce music helps children, adolescents, and adults.
Learning any discipline early in life is often linked with students picking up concepts more quickly. But how young is too young?
In this article, we'll go through the age to start piano lessons and what to look for to know your child is ready.
So, When Should Children Start Learning the Piano?
No age is too young to expose children to a concept (in an age-appropriate setting). Kids much younger than five can benefit from listening to piano music or even exploring the keys. However, while under five, children will have some physical and mental developments that have not come yet limiting the impact of piano lessons from an adult.
The structure of a lesson and even your child's hand size could hold them back when they are too young. Instead, try to wait until your child is at least five years old to explore full lessons. Until then, encourage them to sing and sing with them. Dance, especially cued to music helps them explore music. Whatever you do, keep their experiences fun and light.
Being Ready for Piano Lessons
Piano lesson readiness varies from child to child. Most children will be ready to begin lessons between the ages of 5 and 9. Use the following guide to make sure your child is ready for their lessons:
Hand Size: A piano player needs to be able to place their five fingers on five white keys right next to each other. When your child can lay their hand on the keys with comfort, they won't need to stretch to play music.
Dexterity: A child will need to move each finger independently in order to play the piano successfully. Until they can fully use each finger all on its own, they should wait.
Interest in Learning and Playing: You can have a strong desire for your child to play. However, if you want them to devote themselves to spending the time necessary to develop their skills, they have to be internally motivated to learn.
Reading Aptitude: Your child does not need to be able to read chapter books. But they will need to be able to notice symbols on a page and make sense of them. This will ensure they are ready to begin playing and reading music.
The Age to Start Piano Lessons, Young and Old
According to Piaget and his research on child development, children are at the preoperational stage between 2-7 years old. This is the time cognitive, language, and motor functions make strong developmental leaps. Learning to play the piano can help them at this time.
After a person is physically and mentally ready, no age is wrong for learning to play the piano. Here at Evola, we have seen music learners of all ages. We have teachers committed to their students' growth, and staff members dedicated to the craft of pianos ready to help you find the right instrument.