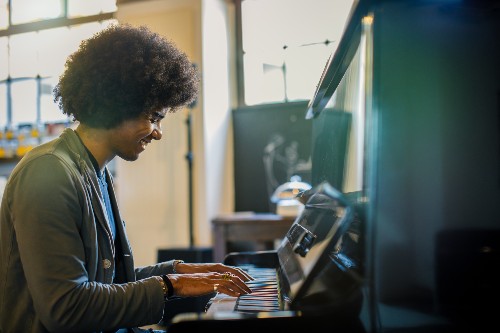 Picking up a new hobby has a ton of potential to open up new worlds of joy and wonder specific to that activity and the rest of your life. Playing the piano has many applications that ripple beyond the appreciation of music. This effect is possible for people of all ages. Don't worry, it's never the wrong time to start exploring music!
Some people are hesitant to start piano lessons. Read the following benefits that learning to play the piano can have for you.
1. Positive responses to criticism
Working with an experienced piano teacher will make all the difference for your development. An effective teacher will be able to give you constructive criticism that is both respectful and exacting. People take advice from those they consider to be experts. Positively responding to criticism by learning from it instead of getting defensive becomes a practiced behavior the student will take into school, work, and life.
2. Better coping with stress
Stage fright is a big problem for many people, adults included. When students perform their skills in front of an audience at home or a theater, they get better at dealing with performance stress. Since the performance is a big moment, the student will practice more teaching dedication to completing goals.
3. Positive responses to success and failure
Piano competitions help performers experience both success and disappointment. Students typically won't win every challenge they participate in. Keeping a positive frame of mind when things don't work out builds character toward bigger goals. Winning isn't everything. Noticing the positives in a loss and the room for improvement in a victory ultimately leads to more success.
4. More and better social interactions
Performing in front of others helps a student become comfortable sharing their talents and hard work. The more piano activities you participate in, the more people you will meet with similar interests in the musical community. Chatting with other piano players helps improve your interest in, ability with, and understanding of the piano.
5. Better performance in school
Children who begin playing the piano in their early grade school years have better cognitive development compared to their peers, according to several studies. This development can help with mathematic understanding while improving their concentration. These mental abilities also benefit adults in their professional and personal lives, where concentration always comes in handy.
Get all these benefits with piano lessons
Consider these benefits for you or your child, although the real reason to pick up piano playing is the pure joy of producing music. Now is the right time to start learning to play the piano, no matter your age. The talented, experienced, and sympathetic music teachers with Evola will help guide you or your child toward honing your musical appreciation and skills while fostering your love of this amazing art.
Find your closest Evola Music location to get started with your lessons.